Puppy Bowl 2018 Recap
Puppy Bowl 2018 Recap
This year's puppy bowl was truly one for the ages. An event where millions, if not billions of people come together and watch the peak of athletic prowess. I am always engaged for the whole 2 hours, as these pupletes bash it out to claim the trophy. If you missed out on the action, lucky for you I have a recap.
The action was insane, with Shirley the sloth as ref making some controversial choices. The pupletes were doing great, and all players were giving it their all. Team Ruff took home a lot of downs, but team Fluff was not letting that happen and was returning just as many scores as they took. It was a very close half, but team Ruff took home the lead for this part of the game. This can largely be attributed to a lack of ball handling skills team Fluff had, and they seemed to be giving up fumbles over and over again. The narrator says "it isn't about how hard you play, it's about how cute you look on the field", but team Ruff proved that wrong by playing incredibly.
The kitty halftime show was the best performance we have seen yet. These superstars did amazing, with Michael doing some of the most gripping singing I have ever heard. His arch-nemesis Phil was crushing it on the DJ booth. The audience was having a great time, and it is clear to see why. As Michael became the singer of KittNSynch and sang "meow meow meow", I was on the edge of my seat. Halftime shows are pretty fun, but this one blew all previous ones out of the water, including last years Kitty GaGa.
The 2nd half kicks off with some of the best players on each team. Team fluff brought out Sally, Sunny, and Vaughn. Then team Ruff brought Juniper and the biggest powerhouse in the league Mr. Wigglesworth. Wigglesworth, unfortunately, started with a 5-yard penalty for excessive snoozing, and really needs to get it together. Juniper got a bit too angry and started a feud with her teammate Dak. It is always a shame to see the athletes clash, especially when we expected a lot more chemistry. Sally got the first touchdown of the 2nd half with team Fluff taking the lead. Then just as the cheerleaders were winding down, Sally scored again. The fans were going crazy and this momentum really started the 2nd half with a bang.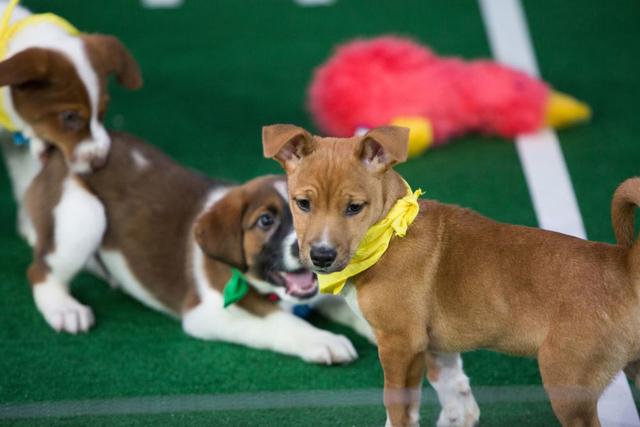 We return with an absolute nail-biter of a game. It has been very close the entire time and we. Team fluff brought out Sophie a three-legged dog, Buttons who is hard of hearing, Edwin, and Peanut. The game is as close as ever, and these two touchdowns seem to have shaken team Ruff, peanut was sitting around. But then it seems Peanut was just waiting for the right opportunity, as she made a touchdown bringing the score 42/41. The two disabled dogs were doing amazing, who could have thought Buttons and Sophie would make such a dynamic duo.
As a Texas boy, you know I was excited to see Tyler on team fluff. After Hurricane Harvey, we all needed a little bit of love, and its good to see Tyler is doing ok. We also got a Puerto Rican pup on our team Kaleb Junior from the aftermath of maria, showing support for the citizens overseas. Kaleb Junior truly showed their stuff, scoring immediately and bringing Fluff into the lead. It was very short lived though, as Rowdy brings in a field goal for team Ruff. Both teams continued with great footwork and agility, with Rowdy's speed going unmatched in the field.
All eyes were on team Ruff as they attempt to upset team fluff in the 4th quarter. Team fluff brought out a new series of players including Biscuit, and Buckalew. Team Ruff brought out two heavy hitters in the form of Hannah, and Carlo the pug (I love pugs). The last minute of the puppy bowl was filled with action, as Kaleb junior pulls off an insane takedown in the inzone, and then pulls in a touchdown for team Fluff. then the final seconds count down with team Fluff as the winners 52-47.
It's hard to imagine how all 90 players can be at the peak of their abilities, but every single puplete was bringing their A-Game. The puppy bowl is an inspiring take on sports and seeing these dogs get an adoption is awesome. Check out more details here
If you like these hardcore sports recaps, shoot me a tip!
Digital Tip Jar